Selected Issues
in Canon Law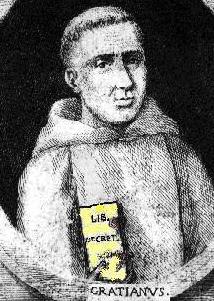 Gratianus Iuris
Canonici Pater
Canon law, like the Church it serves, undergoes continual renewal and reform. I keep track of, and try to contribute to, several such topics, including the following:
Canon 0277 on obligatory clerical continence, here
Canon 0604 on the eligibility for consecrated virginity, coming
Canon 0915 on withholding holy Communion, here
Canon 0919 on extending the Communion fast, here
Canon 1083 on raising the age for licit marriage, here
Canon 1108 on modifying canonical form for marriage, coming
Canon 1184 on ecclesiastical funeral rights, here
Canon 1248 on the satisfying of Mass obligations, coming
Canon 1314 on abolishing latae sentenitae penalties, coming
Canon 1336 on certain types of ecclesiastical punishments, coming
Canon 1398 on human life issues, coming
Understatement
of the Decade
In recent years the study of Canon Law underwent, for various reasons, a lessening of interest, especially among ecclesiastical students. This trend has had a certain disorientating effect upon the Church.
Cong. for Cath. Educ.
2 apr 1975